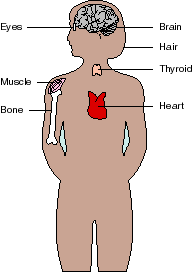 Hashimoto's thyroiditis and Grave's disease result from immune system destruction or stimulation of thyroid tissue. Symptoms of low (hypo-) or overactive (hyper-) thyroid function are nonspecific and can develop slowly or suddenly; these include fatigue, nervousness, cold or heat intolerance, weakness, changes in hair texture or amount, and weight gain or loss. The diagnosis of thyroid disease is readily made with appropriate laboratory tests.
The thyroid gland can affect many parts of the body.
The symptoms of hypothyroidism are controlled with replacement thyroid hormone pills; however, complications from over- or under-replacement of the hormone can occur. Treatment of hyperthyroidism requires long-term anti-thyroid drug therapy or destruction of the thyroid gland with radioactive iodine or surgery. Both of these treatment approaches carry certain risks and long-term side effects. Autoimmune thyroid diseases afflict as many as 4 out of 100 women and are frequently found in families where there are other autoimmune diseases.