What Is Non-Hodgkin's Lymphoma?
Non-Hodgkin's lymphoma is a type of cancer. Lymphoma is a general term for cancers that develop in the lymphatic system. Hodgkin's disease is one type of lymphoma. (Hodgkin's disease is the subject of another NCI booklet, What You Need To Know About™ Hodgkin's Disease.) All other lymphomas are grouped together and are called non-Hodgkin's lymphoma. Lymphomas account for about 5 percent of all cases of cancer in this country.
Check out these quality dietary supplements: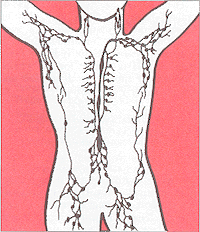 The lymphatic system is part of the body's immune system. It helps the body fight disease and infection. The lymphatic system includes a network of thin tubes that branch, like blood vessels, into tissues throughout the body. Lymphatic vessels carry lymph, a colorless, watery fluid that contains infection-fighting cells called lymphocytes. Along this network of vessels are small organs called lymph nodes. Clusters of lymph nodes are found in the underarms, groin, neck, chest, and abdomen. Other parts of the lymphatic system are the spleen, thymus, tonsils, and bone marrow. Lymphatic tissue is also found in other parts of the body, including the stomach, intestines, and skin.
In non-Hodgkin's lymphoma, cells in the lymphatic system become abnormal. They divide and grow without any order or control, or old cells do not die as cells normally do. Because lymphatic tissue is present in many parts of the body, non-Hodgkin's lymphoma can start almost anywhere in the body. Non-Hodgkin's lymphoma may occur in a single lymph node, a group of lymph nodes, or in another organ. This type of cancer can spread to almost any part of the body, including the liver, bone marrow, and spleen.
Symptoms
The most common symptom of non-Hodgkin's lymphoma is a painless swelling of the lymph nodes in the neck, underarm, or groin.
Other symptoms may include the following:
Unexplained fever
Night sweats
Constant fatigue
Unexplained weight loss
Itchy skin
Reddened patches on the skin
When symptoms like these occur, they are not sure signs of non-Hodgkin's lymphoma. They may also be caused by other, less serious conditions, such as the flu or other infections. Only a doctor can make a diagnosis. When symptoms are present, it is important to see a doctor so that any illness can be diagnosed and treated as early as possible. Do not wait to feel pain; early non-Hodgkin's lymphoma may not cause pain.
Diagnosis
If non-Hodgkin's lymphoma is suspected, the doctor asks about the person's medical history and performs a physical exam. The exam includes feeling to see if the lymph nodes in the neck, underarm, or groin are enlarged. In addition to checking general signs of health, the doctor may perform blood tests.
The doctor may also order tests that produce pictures of the inside of the body. These may include:
X-rays: Pictures of areas inside the body created by high-energy radiation.
CT (or CAT) scan: A series of detailed pictures of areas inside the body. The pictures are created by a computer linked to an x-ray machine.
MRI (magnetic resonance imaging): Detailed pictures of areas inside the body produced with a powerful magnet linked to a computer.
Lymphangiogram: Pictures of the lymphatic system taken with x-rays after a special dye is injected to outline the lymph nodes and vessels.
A biopsy is needed to make a diagnosis. A surgeon removes a sample of tissue so that a pathologist can examine it under a microscope to check for cancer cells. A biopsy for non-Hodgkin's lymphoma is usually taken from a lymph node, but other tissues may be sampled as well. Sometimes, an operation called a laparotomy may be performed. During this operation, a surgeon cuts into the abdomen and removes samples of tissue to be checked under a microscope.
A patient who needs a biopsy may want to ask the doctor some of the following questions:
Why do I need to have a biopsy?
How long will the biopsy take? Will it hurt?
How soon will I know the results?
If I do have cancer, who will talk with me about treatment? When?
Types of Non-Hodgkin's Lymphoma
Over the years, doctors have used a variety of terms to classify the many different types of non-Hodgkin's lymphoma. Most often, they are grouped by how the cancer cells look under a microscope and how quickly they are likely to grow and spread. Aggressive lymphomas, also known as intermediate and high-grade lymphomas, tend to grow and spread quickly and cause severe symptoms. Indolent lymphomas, also referred to as low-grade lymphomas, tend to grow quite slowly and cause fewer symptoms.
Staging
If non-Hodgkin's lymphoma is diagnosed, the doctor needs to learn the stage, or extent, of the disease. Staging is a careful attempt to find out whether the cancer has spread and, if so, what parts of the body are affected. Treatment decisions depend on these findings.
The doctor considers the following to determine the stage of non-Hodgkin's lymphoma:
The number and location of affected lymph nodes;
Whether the affected lymph nodes are above, below, or on both sides of the diaphragm (the thin muscle under the lungs and heart that separates the chest from the abdomen); and
Whether the disease has spread to the bone marrow, spleen, or to organs outside the lymphatic system, such as the liver.
In staging, the doctor may use some of the same tests used for the diagnosis of non-Hodgkin's lymphoma. Other staging procedures may include additional biopsies of lymph nodes, the liver, bone marrow, or other tissue. A bone marrow biopsy involves removing a sample of bone marrow through a needle inserted into the hip or another large bone. A pathologist examines the sample under a microscope to check for cancer cells.
Treatment
The doctor develops a treatment plan to fit each patient's needs. Treatment for non-Hodgkin's lymphoma depends on the stage of the disease, the type of cells involved, whether they are indolent or aggressive, and the age and general health of the patient.
Non-Hodgkin's lymphoma is often treated by a team of specialists that may include a hematologist, medical oncologist, and/or radiation oncologist. Non-Hodgkin's lymphoma is usually treated with chemotherapy, radiation therapy, or a combination of these treatments. In some cases, bone marrow transplantation, biological therapies, or surgery may be options. For indolent lymphomas, the doctor may decide to wait until the disease causes symptoms before starting treatment. Often, this approach is called "watchful waiting."
Taking part in a clinical trial (research study) to evaluate promising new ways to treat non-Hodgkin's lymphoma is an important option for many people with this disease. For more information, see the "Clinical Trials" section.
Methods of Treatment
Chemotherapy and radiation therapy are the most common treatments for non-Hodgkin's lymphoma, although bone marrow transplantation, biological therapies, or surgery are sometimes used.
Chemotherapy is the use of drugs to kill cancer cells. Chemotherapy for non-Hodgkin's lymphoma usually consists of a combination of several drugs. Patients may receive chemotherapy alone or in combination with radiation therapy.
Chemotherapy is usually given in cycles: a treatment period followed by a recovery period, then another treatment period, and so on. Most anticancer drugs are given by injection into a blood vessel (IV); some are given by mouth. Chemotherapy is a systemic treatment because the drugs enter the bloodstream and travel throughout the body.
Radiation therapy (also called radiotherapy) is the use of high-energy rays to kill cancer cells. Treatment with radiation may be given alone or with chemotherapy. Radiation therapy is local treatment; it affects cancer cells only in the treated area. Radiation therapy for non-Hodgkin's lymphoma comes from a machine that aims the high-energy rays at a specific area of the body. There is no radioactivity in the body when the treatment is over.
Bone marrow transplantation (BMT) may also be a treatment option, especially for patients whose non-Hodgkin's lymphoma has recurred (come back). BMT provides the patient with healthy stem cells (very immature cells that produce blood cells) to replace cells damaged or destroyed by treatment with very high doses of chemotherapy and/or radiation therapy. The healthy bone marrow may come from a donor, or it may be marrow that was removed from the patient, treated to destroy cancer cells, stored, and then given back to the person following the high-dose treatment. Until the transplanted bone marrow begins to produce enough white blood cells, patients have to be carefully protected from infection. They usually stay in the hospital for several weeks.
Biological therapy (also called immunotherapy) is a form of treatment that uses the body's immune system, either directly or indirectly, to fight cancer or to lessen the side effects that can be caused by some cancer treatments. It uses materials made by the body or made in a laboratory to boost, direct, or restore the body's natural defenses against disease. Biological therapy is sometimes also called biological response modifier therapy.
Surgery may be performed to remove a tumor. Tissue around the tumor and nearby lymph nodes may also be removed during the operation.
Side Effects of Treatment
Treatments for non-Hodgkin's lymphoma are very powerful. It is hard to limit the effects of therapy so that only cancer cells are removed or destroyed. Because treatment also damages healthy cells and tissues, it often causes side effects.
The side effects of cancer treatment depend mainly on the type and extent of the therapy. Side effects may not be the same for everyone, and they may even change from one treatment to the next. Doctors and nurses can explain the possible side effects of treatment. They can also lessen or control many of the side effects that may occur during and after treatment.
Nutrition During Cancer Treatment
Eating well during cancer treatment means getting enough calories and protein to help prevent weight loss and regain strength. Good nutrition often helps people feel better and have more energy.
Some people with cancer find it hard to eat a balanced diet because they may lose their appetite. In addition, common side effects of treatment, such as nausea, vomiting, or mouth sores, can make eating difficult. Often, foods taste different. Also, people being treated for cancer may not feel like eating when they are uncomfortable or tired.
Doctors, nurses, and dietitians can offer advice on how to get enough calories and protein during cancer treatment. Patients and their families also may want to read the National Cancer Institute booklet Eating Hints for Cancer Patients, which contains many useful suggestions.
Risk Factors Associated with Non-Hodgkin's Lymphoma
The incidence of non-Hodgkin's lymphoma has increased dramatically over the last couple of decades. This disease has gone from being relatively rare to being the fifth most common cancer in the United States. At this time, little is known about the reasons for this increase or about exactly what causes non-Hodgkin's lymphoma.
Doctors can seldom explain why one person gets non-Hodgkin's lymphoma and another does not. It is clear, however, that cancer is not caused by an injury, and is not contagious; no one can "catch" non-Hodgkin's lymphoma from another person.
By studying patterns of cancer in the population, researchers have found certain risk factors that are more common in people who get non-Hodgkin's lymphoma than in those who do not. However, most people with these risk factors do not get non-Hodgkin's lymphoma, and many who do get this disease have none of the known risk factors.
The following are some of the risk factors associated with this disease:
Age/Sex–The likelihood of getting non-Hodgkin's lymphoma increases with age and is more common in men than in women.
Weakened Immune System–Non-Hodgkin's lymphoma is more common among people with inherited immune deficiencies, autoimmune diseases, or HIV/AIDS, and among people taking immunosuppressant drugs following organ transplants.
Viruses–Human T-lymphotropic virus type I (HTLV-1) and Epstein-Barr virus are two infectious agents that increase the chance of developing non-Hodgkin's lymphoma.
Environment–People who work extensively with or are otherwise exposed to certain chemicals, such as pesticides, solvents, or fertilizers, have a greater chance of developing non-Hodgkin's lymphoma.
People who are concerned about non-Hodgkin's lymphoma should talk with their doctor about the disease, the symptoms to watch for, and an appropriate schedule for checkups. The doctor's advice will be based on the person's age, medical history, and other factors.